BFST® is the end result of years of effort and several hundreds of thousands of dollars of R&D. And we're not done yet. We continue to invest heavily in this technology and improve our product every year. As long as we think we can improve the technology, we won't stop working on it - and it's already pretty incredible.
BFST® devices work using our proprietary Energy Web®. This proprietary technology is built into several body specific shapes that wrap around your injured joint or limb. The entire surface of the Energy Web® outputs stimulating energy. That energy envelops your body and easily passes right through your skin and fat. The energy focuses itself deep within your body, stimulating blood flow in the underlying tissue - your muscles, tendons and ligaments. This is exactly what you need. And with stimulated blood flow your body gets the oxygen and nutrient rich blood it needs to heal as quickly and completely as possible.
It doesn't end there though. BFST® has evolved to much more than just blood stimulation. Compression can play a significant role in how a wound heals. Properly applied compression can significantly affect the quality of a wound recovery. Proper compression can seriously reduce how much scarring remains after healing. Proper compression can reduce the chances of reinjury during the healing cycle. BFST wraps not only stimulate blood flow, but they also provide compressive therapy specifically designed for each part of the body. With a BFST wrap from newtreatment.com, you can cycle through treatments of blood flow and compression that optimally treat your injury.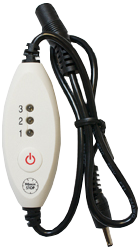 All newtreatment.com BFST® wraps include a 3 level power controller to help you select the treatment level that is just right for you. When you use your BFST® device for the first time you will find that initially there is very little sensation from the treatment. Over the course of a few minutes blood flow begins to increase and most people describe a 'tingling' sensation as well as a feeling of warming beneath the skin. As long as the warming sensation remains low to moderate this means the increased blood flow is appropriate. If the warming sensation becomes uncomfortable or hot then the body is not ready for that level of treatment and a lower setting should be used.
BFST® is a very pleasant and relaxing treatment; people enjoy the experience. Early on in the recovery process, patients usually start using the low setting and over the course of several treatments - as their injury heals and blood flow ability through the area continues to increase - a higher setting can be used to promote additional blood flow. In healthy tissue BFST® devices will produce only a moderate warming sensation at the high level although there is still significant blood flow stimulation in the tissue deep below the Energy Web®.